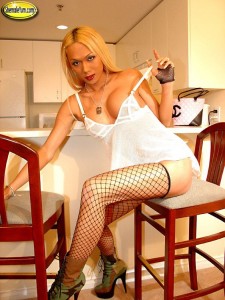 This gorgeous creature has been toying with me for years about doing a real shoot, really took a lot of me dealing with this one. Finally it seemed she was really going to do a shoot for us but I wasn't holding my breath.
Had trouble getting in touch with her and only managed to catch a glimpse of her at Cleopatra's looking exactly like she could be a Hilton sister. Finally she called and showed up only hours before I was leaving town. This girl is something of a brat but she is sexy as hell.
These are her first public nude photos even though she did have a cameo in a gay film some years ago.
She also gave me an autographed portrait of herself, a first for me!?! See more of Tania at Shemaleyum
This amazing tgirl loves to show off her fantastic body. Yeidi teased the cameras with her curves before leaning over to grip her cock in her hand and stroke it while she played with her big round tits. This tgirl is so gorgeous, I am sure you'll fall in love with her.
Alluring Shemale Nicole Montero posing in a sexy dress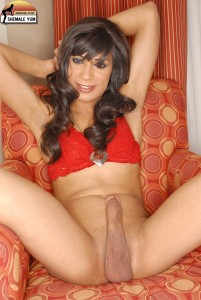 I found Natalia in Baltimore when I was in town shooting another girl for Shemale Yum. We were staying in the same hotel and I had just shot the girl she was traveling with.
A few days after our shoot she was helping her friend more overseas. Natalia is very cute and was a lot of fun to work with. See more from Natalia at Shemaleyum